About Us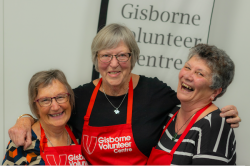 Gisborne Volunteer Centre was established in 2001. We are committed to promoting volunteering and assisting the people of Tairāwhiti to find great volunteer opportunities. We do this by matching volunteers with the organisations where they will have the greatest impact, enjoyment and sense of contribution.
We also work within the community to strengthen the sector through advocacy, support, and training.
Our Mission:
Strengthening our community by providing a supportive volunteer environment.
Our Vision:
A connected community enriched through volunteering.
Our Values:
Integrity - Ngākau tapatahi: Honesty, Trustworthy, Ethical, Responsible, Accountable.
Excellence - Hiranga: Encouraging, supporting and promoting best practice.
Respect - Whakaute: Respect our language, respect our culture, respect our environment, respect ourselves, respect each other.
Leadership - Mana Whakatipu: Influence, manage, guide, motivate.
Community - Hapori whānui: Networks, sustainability, resources
Our Whakataukī
Me mahi tahi tātou mo te oranga o te katoa
We must work together for the wellbeing of all.